TTC – Dressage/CT/Jumper Show – 8/15/2020
So much has changed in these last few months. But one thing that hasn't changed is how difficult it is to take photographs in conditions of high heat and humidity.
While not busy capturing images, my camera travels in my car or rests in an air conditioned room. On a hot and humid day, it goes into a state of shock when it's suddenly transferred from it's relatively cool and dry resting place and exposed to harsh conditions outdoors. The lens I use for outdoor sport is big, heavy, and old, with a lot of glass elements. The large front element acts like a water vapor magnet and immediately fogs over. Usually it takes upwards of 15 minutes for the camera to warm up enough to "dry out".
However, its worse for my glasses. I wear them even when I take photographs. My camera has a diopter that is calibrated to give me perfect vision through the view-finder while I'm wearing my glasses. But without the glasses, the camera view-finder is nothing but a blur. So, hot, humid days are particularly troublesome. In addition, there is an extra constraint while wearing a mask. Every time I exhale, a new layer of fog  is added to the already fogged up glasses. This problem lasts way longer than the fogged lens, and only goes away when the humidity level drops. 
The early part of this horse show was one such morning. I arrived at TTC and went to the dressage arena. But, between my fogged glasses and fogged camera I was helpless. Wiping off the moisture didn't help either, because the fog was back within seconds.
While waiting for these surfaces to clear, I did manage to capture a picture (right) that I like. It has a somewhat mysterious aura caused by the semi-fogged lens.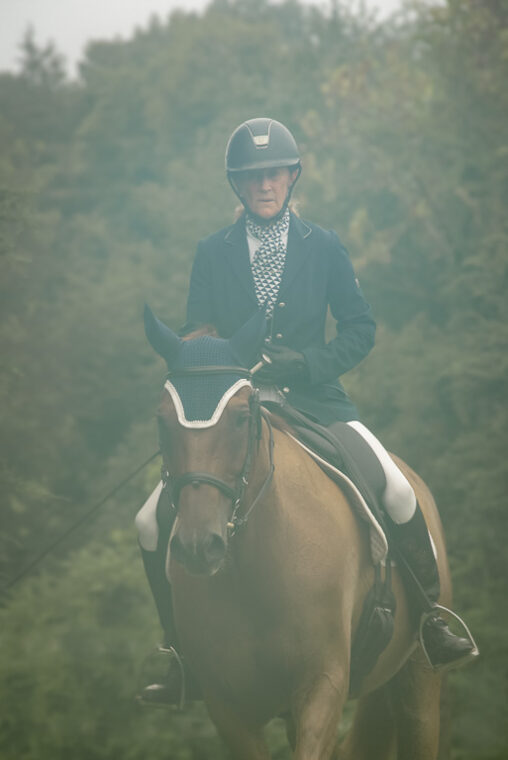 Learn More About Sabela Images Photography