The Torchlight Ceremony marking the opening of the 2019 Grandfather Mountain Highland Games was held on Thursday evening. The venue was MacRae Meadows, beside the entrance to Grandfather Mountain.
Torchlight Ceremony
"The Saltire Cross is recognized as Scotland's ancient symbol. A living cross of light is made up of a representative from all the clans and families who have come to participate. They come from all the points of the compass to indicate their origins and take their place as part of the gathering on this magnificent mountain
Together they share remembrances and offer thanks. As the torches burn brightly together in the gathering darkness, the haunting sound of pipes is carried into the night. The clans have come again to celebrate who we are."
(The 64th Annual Grandfather Mountain Highland Games and Gathering of Scottish Clans program 74)
In the Dark
I was privileged to have a Media pass that granted me access to the field. I circled around behind the participants on the opposite side of the field from the main viewing stands, at the same time being mindful to not intrude on the ceremony or block other photographers. By the time the ceremony began, the sun had set and the skies had darkened. Later, the torches provided most of the light. Consequently, many of the useable images were in the form of silhouettes of people against the flames and smoke in the background
Cloak Silhouette
The ceremony reached its conclusion and the participants started dispersing. That's when I passed behind a figure clad in a dark cloak rather than the ceremonial kilt that most other clan representatives wore that night. The evening sky in the background, together with the Saltire Cross with flaming torches and rising smoke in the middle distance, and the figure in silhouette in the foreground grabbed my attention. This juxtaposition created a startling composition. I quickly adjusted my position and captured two or thee images. A moment later the scene was gone.
-DM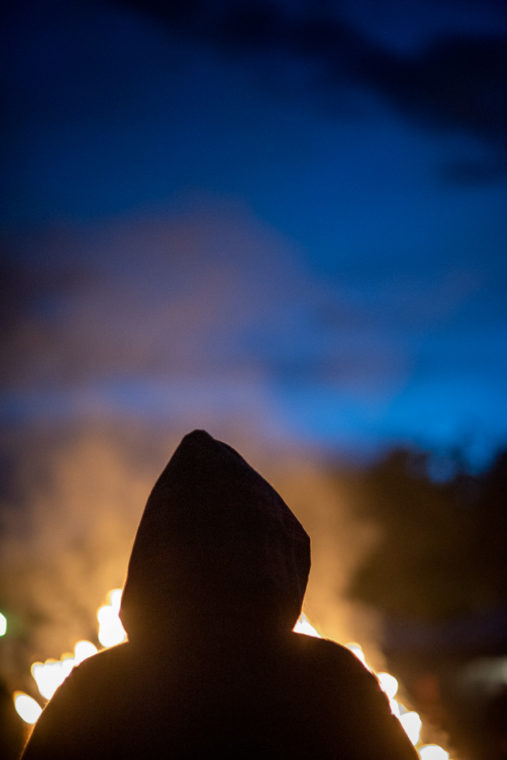 Learn more about Sabela Images Photography
Call us: 336-558-4547 | email: [email protected] | Service Areas